Scrub your hands and knot your apron, you will get all the tips to make your own Gâteau Basque and you will bring it home once fully baked.
Our Pastry Chef will share with you all the recipe techniques and tricks!
—————————————–
– Workshop N°1 – 2hrs – 20 €
Every Thursdays at 2:30 p.m.
"Recipe, Confection & Method"
After learning how to make the dough, assemble your own cake and learn the secrets of the authentic Gâteau Basque. Exchanges with the Chef and delivery of your warm Basque Cake at the end of the workshop.
—————————————–

– Complete Workshop – 2.5hrs – 30 €
Wednesdays or Thursdays at 2:30 p.m. (see calendar for more info)
Chef divides the group after Workshop nº1 for every participant to cook their pastry cream and make their dough. Every participant leaves with their cooked gâteau basque, the dough and pastry cream (if they wish).
—————————————–

– Kids Workshop – 1.5hr – 16 €
Wednesdays at 10:30 a.m. during French school vacations
Fun and simplified workshop: making of the dough, assembling and decorating a Gâteau Basque. Bonus : little personalized sablés making.
—————————————–

– Special Gourmet Day Pass – 43 €
Every Thursdays
The pass gourmand includes the Discovery Visit at 11:30 a.m. the Assiette Gourmande served from 12:15 p.m. and then the Workshop n°1 starting at 2:30 p.m.
---
Grab your recipe book and join us, the Chef awaits you !
Our scheduled public workshops are led in French.
We can organize private, personalized visits, workshops & events for groups in English.
—————————————–
Reservations are made directly on our website.
For special requests please contact us by phone at +33.6.71.58.06.69
or by e-mail at gateaubasque@orange.fr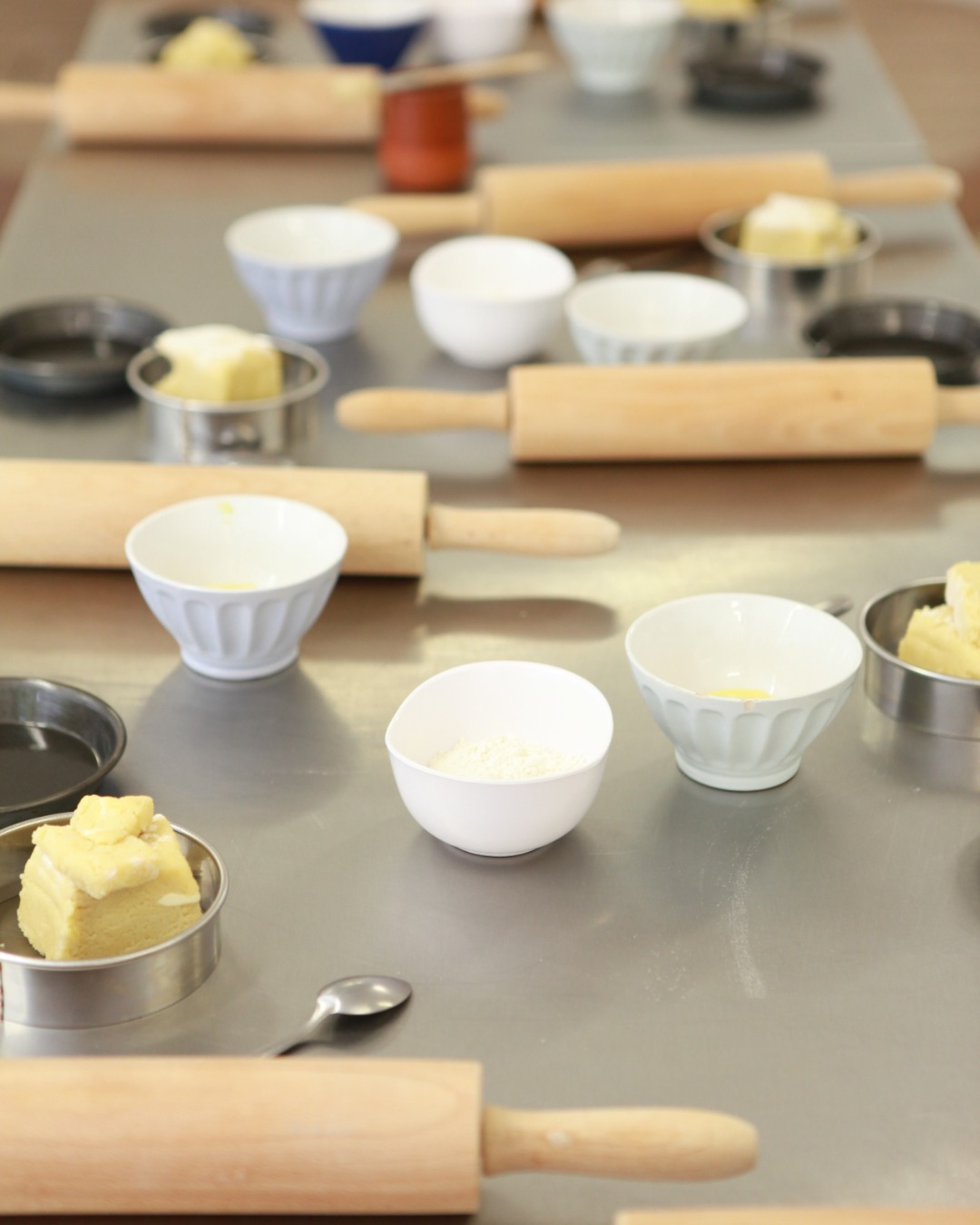 Enjoy a Gourmet Lunch or a Sweet Snack !
Enjoy a local meal or a traditional Goûter at the Bodega facing the Museum, and stay a little longer ! Combine a workshop with a gourmet lunch: l'Assiette Gourmande or a Sweet Goûter (snack).

Our gourmet lunch includes local Bayonne ham, homemade piperade, fresh lettuce with vinaigrette, sheep's milk cheese served with traditional cherry jam, a choice of local drink, individual Basque cake for dessert and coffee.
The Sweet Goûter includes gâteau basque duo (cherry jam & pastry cream), house pastries assortment, local apple juice & your choice of hot beverage: tea, coffee, artisan hot chocolate.
Workshops 2022
Kids Workshop : 16€
Workshop N°1  : 20€
Complete Workshop : 30€
Workshop N°1 + Gourmet Lunch : 35€
Workshop N°1 + Sweet Snack : 28€
Complete Workshop + Gourmet Lunch : 44€
Gourmet Day Pass : Discovery Visit + Gourmet Lunch + Workshop N°1 : 43€